27 December 2022
First Quarter 2023
More clarity and opportunities in 2023
After a year of many deep uncertainties, we think 2023 is starting to become clearer. The economic outlook is likely to remain challenging for another quarter or two, but we expect that, by the second half of 2023, inflation should moderate and economic growth should start to pick up again. While 2022 was a year where almost all asset classes performed poorly, we think that 2023 is likely to offer several investment opportunities.
A moderation in inflation should open the door for fixed income investments in the first half of 2023. As such, we start the year overweight fixed income. We think this is more of a win-win situation at the start of the year given that current yields are high, and inflation is moderating. If the global economy is able to avoid a significant downturn and we see continued growth, then fixed income should at least be able to offer returns in the form of high yields. If, on the other hand, the global economy slips into recession, then fixed income will benefit from the lower inflation and interest rates that tend to accompany a recession.
On the other hand, slowing economic growth in early 2023 will likely be a headwind to equity investments. We think it is possible that growth could halt altogether and turn into a classic recession, but it is also plausible that the slowdown is a modest one. In either case, we think growth assets like equities will not be able to recover until that growth slowdown has troughed later in 2023. We therefore have a neutral outlook on equities, commodities and alternatives at the start of the year and we are underweight cash.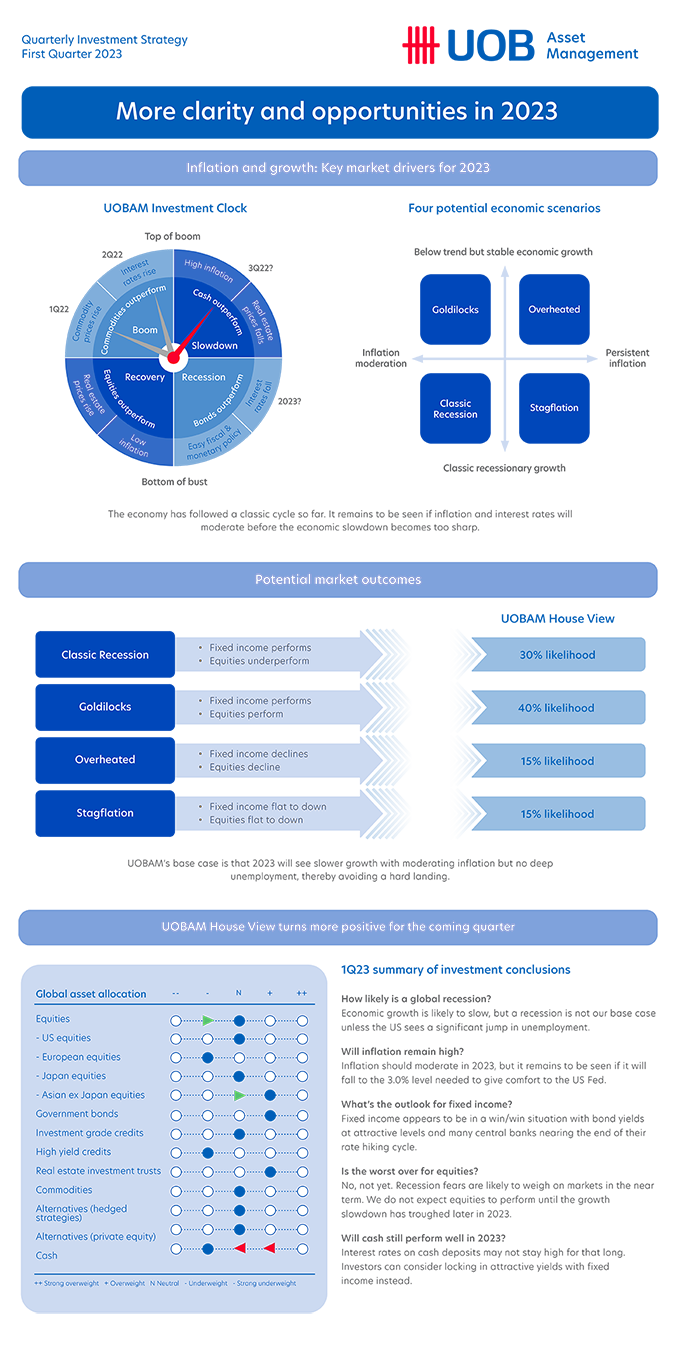 Download the Quarterly Investment Strategy Chartbook
Download the full Quarterly Investment Strategy Report
This publication shall not be copied or disseminated, or relied upon by any person for whatever purpose. The information herein is given on a general basis without obligation and is strictly for information only. This publication is not an offer, solicitation, recommendation or advice to buy or sell any investment product, including any collective investment schemes or shares of companies mentioned within. Although every reasonable care has been taken to ensure the accuracy and objectivity of the information contained in this publication, UOB Asset Management Ltd ("UOBAM") and its employees shall not be held liable for any error, inaccuracy and/or omission, howsoever caused, or for any decision or action taken based on views expressed or information in this publication. The information contained in this publication, including any data, projections and underlying assumptions are based upon certain assumptions, management forecasts and analysis of information available and reflects prevailing conditions and our views as of the date of this publication, all of which are subject to change at any time without notice. Please note that the graphs, charts, formulae or other devices set out or referred to in this document cannot, in and of itself, be used to determine and will not assist any person in deciding which investment product to buy or sell, or when to buy or sell an investment product. UOBAM does not warrant the accuracy, adequacy, timeliness or completeness of the information herein for any particular purpose, and expressly disclaims liability for any error, inaccuracy or omission. Any opinion, projection and other forward-looking statement regarding future events or performance of, including but not limited to, countries, markets or companies is not necessarily indicative of, and may differ from actual events or results. Nothing in this publication constitutes accounting, legal, regulatory, tax or other advice. The information herein has no regard to the specific objectives, financial situation and particular needs of any specific person. You may wish to seek advice from a professional or an independent financial adviser about the issues discussed herein or before investing in any investment or insurance product. Should you choose not to seek such advice, you should consider carefully whether the investment or insurance product in question is suitable for you.

UOB Asset Management Ltd Co. Reg. No. 198600120Z