25 April 2023
UOB Asset Management: Leveraging Tech for Strategic Portfolio Management
UOB Asset Management (UOBAM) is known for its forward-thinking strategies and advanced data analytics to optimise the performance of its investment portfolio. Recently, UOBAM's innovative approach to portfolio management has been recognized at the Global Retail Banking Innovation Awards 2022 organised by The Digital Banker with the firm winning several awards including, Best Robo Advisory Initiative and Outstanding Machine Learning Initiative.
"These accolades are a testament to UOBAM's commitment to providing retail investors with institutional-grade solutions and expertise, and to its ability to successfully integrate technology and human expertise in a way that benefits its customers," said Nirav Patel, Managing Director at The Digital Banker during the awards ceremony.
Revolutionizing the robo-investing industry
UOB Asset Management (UOBAM) has launched a digital platform, UOBAM Invest, at end of July 2020 and it was later enhanced in 2022, which aims to provide institutional-grade portfolio solutions to a wide retail customer base. The platform offers accessibility through easy navigation and transparent portfolios, affordability through low minimum investments of just S$1.00 and no account opening or redemption fees, customisation through highly personalised portfolios tailored to individual customer circumstances, and professionalism through solutions based on four decades of investment expertise and an internal team of more than 90 portfolio analysts and managers, as well as third-party partnerships.
UOBAM is the first regional asset management firm to offer a robo-adviser for corporate investors and personalised portfolios for retail investors. For retail investors, UOBAM's robo-adviser includes an established portfolio recommendation process based on investors' personalised inputs, such as risk appetite, investment goals, and time horizon. This is integrated with UOBAM's in-house investment views, expertise, and technology to generate instant, personalised, and optimal portfolio recommendations. This approach, which is trusted by institutional investors, is available to individual retail investors in a highly customized manner, tailored to their personal circumstances.

All screens shown should be for illustration purposes only
UOBAM Invest is revolutionizing the robo investing industry by combining process simplification with investment rigour. The platform offers the best of both worlds: consistent and regular human input, as well as a digital customer experience. This means that customers are not forced to choose between the two but can instead enjoy fine-tuned portfolio allocations and ongoing servicing similar to that of a private banker, while also benefiting from the convenience, ease of use, and transparency offered by a digital platform.
UOBAM Invest encourages customers to adopt fundamental principles of investing, such as holding for the long term, dollar cost averaging, risk tolerance across a spectrum, asset diversification, and strategic portfolio management. These principles are embedded within the firm's investment approach, the robo-advisory's algorithms, and the platform's interface, providing customers with a unified plan for responsible investing. The platform democratises investing for individuals and seeks to lower barriers to entry by providing customers with a wide range of insights and knowledge to make informed decisions, including regular access to investment professionals and an in-person service team.Additionally, the platform is integrated with Myinfo for easy, document-free account opening and facilitates eGIRO (Electronic GIRO) regular investing with their preferred participating bank.
From Dec 2020 to June 2022, UOBAM achieved 77% growth in approved accounts.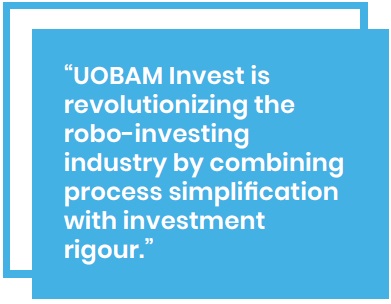 UOBAM's Asia Equity Artificial Intelligence Machine Learning (AIML)
Further leveraging technology to deliver value, UOBAM has developed an innovative approach to equity investing through the use of its Asia Equity Artificial Intelligence Machine Learning (AIML) model. The model scans the entire investible universe of stocks, shortlisting the top 100 stocks that have the greatest upside potential. The AIML model analyses all the fundamental data of the companies in the universe, taking into account all the macroeconomic variables in the different countries, as well as the technical factors affecting short-term stock price movements.
Once the shortlist is generated, the managers focus their efforts on doing more detailed due diligence on the stocks with the highest return potential. They were able to tap into the expertise of UOBAM analysts across the various UOBAM regional offices as well as the Regional ESG Team. Following the rigorous assessment process outlined above, the managers use a unique Optimisation model to assign weights to the stocks chosen based on a comprehensive risk management framework. The resulting final portfolio is robust, customizable to align with other investment mandates, and independently monitored by the Risk and Performance Unit.
The most direct benefit for customers from this unique process is better performance. Since its implementation in Q4 2020, the United Asia Fund has outperformed its benchmark, MSCI AC Asia ex Japan, by a whopping 14.53% over the period ending 2021, despite the challenging markets. Similarly, since the AIML enhancement in 2021, the United Greater China Fund outperformed its benchmark, MSCI Golden Dragon, and delivered an equally impressive outperformance of 13.55% in 2021.
Importantly, these outperformances were achieved despite applying very strict risk controls, thus ensuring the long-term sustainability of returns with a Sharpe1 ratio of 0.93 against benchmark of -0.33 for the United Asia Fund, and a Sharpe ratio of 0.34 against benchmark of -0.61 for the United Greater China Fund in 2021.
The development of the AIML model also helped dispel notions that there is a disconnect between profit and purpose. This is evident with a return of 9.28% for the United Sustainable Asia Top-50 Fund against benchmark (MSCI AC Asia Index) of -0.54% and sharpe ratio of 1.14 against benchmark of -0.15 in 2021. By using modern data-driven tools to enhance the ESG framework, UOBAM is able to provide customers with the option to invest in the long-term growth potential of ESG-focused companies and financially benefit from the global transition towards greener solutions and practices.
This article was first published by The Digital Banker on 8 March 2023

This document is for your general information only. It does not constitute investment advice, recommendation or an offer or solicitation to deal in Exchange Traded Funds ("ETFs") or in units in any Unit Trusts ("Unit Trusts", ETFs and Unit Trusts shall together be referred to as "Fund(s)") nor does it constitute any offer to take part in any particular trading or investment strategy. This document was prepared without regard to the specific objectives, financial situation or needs of any particular person who may receive it. The information is based on certain assumptions, information and conditions available as at the date of this document and may be subject to change at any time without notice. If any information herein becomes inaccurate or out of date, we are not obliged to update it. No representation or promise as to the performance of the Fund or the return on your investment is made. Past performance of any Fund or UOB Asset Management Ltd ("UOBAM") and any past performance, prediction, projection or forecast of the economic trends or securities market are not necessarily indicative of the future or likely performance of the Fund or UOBAM. The value of any Fund and the income from them, if any, may fall as well as rise, and may have high volatility due to the investment policies and/or portfolio management techniques employed by the Fund. Investments in any Fund involve risks, including the possible loss of the principal amount invested, and are not obligations of, deposits in, or guaranteed or insured by United Overseas Bank Limited ("UOB"), UOBAM, or any of their subsidiary, associate or affiliate ("UOB Group") or distributors of the Fund. Market conditions may limit the ability of the platform to trade and investments in non-Singapore markets may be subject to exchange rate fluctuations. The Fund may use or invest in financial derivative instruments and you should be aware of the risks associated with investments in financial derivative instruments which are described in the respective Fund's prospectus. The UOB Group may have interests in the Funds and may also perform or seek to perform brokering and other investment or securities-related services for the Fund. Investors should read the Fund's prospectus, which is available and may be obtained from UOBAM or any of its appointed agents or distributors, before investing. You may wish to seek advice from a financial adviser before making a commitment to invest in any Funds, and in the event that you choose not to do so, you should consider carefully whether the Fund is suitable for you. Any reference to any specific country, financial product or asset class is used for illustration or information purposes only and you should not rely on it for any purpose. We will not be responsible for any loss or damage arising directly or indirectly in connection with, or as a result of, any person acting on any information provided in this document. Services offered by UOBAM Invest are subject to the UOBAM Invest Terms and Conditions.

UOB Asset Management Ltd. Company Reg. No. 198600120Z