24 February 2023
APAC REITs are poised to benefit from higher rents and stronger demand in 2023 as economic headwinds ease
Valuations are attractive and APAC REITs continue to be a good source of regular income
UOBAM favours a balance of growth and defensive REIT sub-sectors
After falling 21 percent in 2022, APAC REITs have started the year on solid footing. Sentiment has been buoyed by easing inflation expectations and a moderation in US Treasury yields.
Figure 1: APAC REITs vs US Treasury yield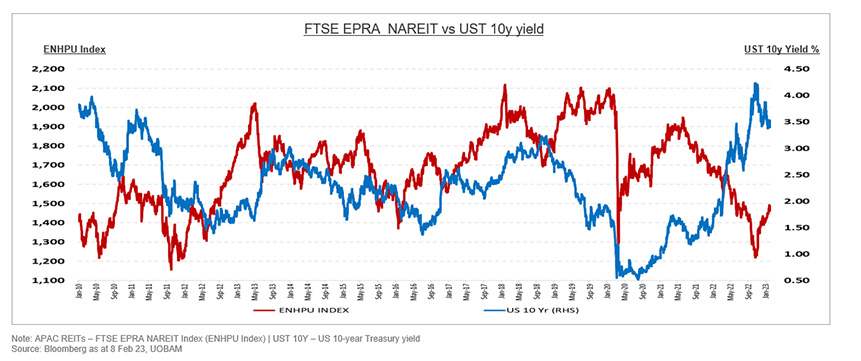 Note: APAC REITs – FTSE EPRA NAREIT (ENHPU Index) UST 10Y – US 10-year Treasury yield
Source: Bloomberg as at 8 Feb 2023, UOBAM
Better times ahead
Despite the recent pullback, there are several reasons for optimism from both a capital gains and dividends perspective:
As Figure 1 shows, there is a tendency for REITs to be negatively correlated to interest rates in a slowing growth scenario. Investors are now anticipating rate hikes to peak in 2023, and a potential pause or cut in the current Federal Reserve rate hiking cycle could be a catalyst for APAC REITs.
Also positive for APAC REITS is that valuations are now more attractive. The sector is currently valued below average at 0.73 times price-to-book (P/B) ratio. A reversion to the mean would give rise to a potential upside of about 16 percent.
Furthermore, APAC REITs continue to be a good source of regular income. The current average forward dividend yield of 4.4 percent is high enough to attract income-seeking investors. We expect the 2-year distribution per unit (DPU) to grow at a healthy 2.3 percent CAGR.
Potential for Singapore REITS to shine
The Singapore REITs (S-REITs) sub-sector is showing both upside potential and good resilience. A potential pivot in interest rates this year could relieve the pressures of high financing costs on S-REITs, resulting in greater earnings visibility and dividend distributions. The resumption of Chinese travel is another potential boost for Singapore's retail and hospitality REITs.
In addition, while Singapore faces a more subdued macroeconomic environment heading into 2023, property valuations and S-REITs' earnings growth has the ability to cushion any downside risks.
A balance of growth and defensiveness
When choosing which sub-sectors to invest in, UOBAM currently favours a barbell approach of balancing between growth and defensiveness.

Industrial REITs provide a good balance of defensiveness and organic growth potential as tailwinds from secular growth in e-commerce remain intact. We prefer industrial REITs at reasonable valuations.

Office REITs allows for investors to leverage the flight-to-quality trend. We are upbeat on central business district (CBD) Grade-A office properties.

Retail REITs are set to see a firmer recovery this year. Prime retail will be supported by the return of Chinese tourists and limited supply of new retail spaces, while suburban malls remain resilient.

Hospitality REITs are expected to enjoy a robust earnings recovery as the rebound in global travel gains further momentum. The expansion into new business models such as student accommodation is another positive.
This publication shall not be copied or disseminated, or relied upon by any person for whatever purpose. The information herein is given on a general basis without obligation and is strictly for information only. This publication is not an offer, solicitation, recommendation or advice to buy or sell any investment product, including any collective investment schemes or shares of companies mentioned within. Although every reasonable care has been taken to ensure the accuracy and objectivity of the information contained in this publication, UOB Asset Management Ltd ("UOBAM") and its employees shall not be held liable for any error, inaccuracy and/or omission, howsoever caused, or for any decision or action taken based on views expressed or information in this publication. The information contained in this publication, including any data, projections and underlying assumptions are based upon certain assumptions, management forecasts and analysis of information available and reflects prevailing conditions and our views as of the date of this publication, all of which are subject to change at any time without notice. Please note that the graphs, charts, formulae or other devices set out or referred to in this document cannot, in and of itself, be used to determine and will not assist any person in deciding which investment product to buy or sell, or when to buy or sell an investment product. UOBAM does not warrant the accuracy, adequacy, timeliness or completeness of the information herein for any particular purpose, and expressly disclaims liability for any error, inaccuracy or omission. Any opinion, projection and other forward-looking statement regarding future events or performance of, including but not limited to, countries, markets or companies is not necessarily indicative of, and may differ from actual events or results. Nothing in this publication constitutes accounting, legal, regulatory, tax or other advice. The information herein has no regard to the specific objectives, financial situation and particular needs of any specific person.You may wish to seek advice from a professional or an independent financial adviser about the issues discussed herein or before investing in any investment or insurance product. Should you choose not to seek such advice, you should consider carefully whether the investment or insurance product in question is suitable for you.

UOB Asset Management Ltd. Company Reg. No. 198600120Z