Q2 2023 Market developments
Global equities rose in the second quarter of the year, as volatility, measured by the VIX Volatility Index, dropped to the lowest level since March 2020
Global bonds fell slightly in Q2 2023 due to expectations of central banks holding interest rates higher for longer
Asian equities continued to lag global equities as investors were increasingly concerned over China's economic growth prospects and geopolitical tension
Asset class performance (% in SGD terms) 31 March 2023 – 30 June 2023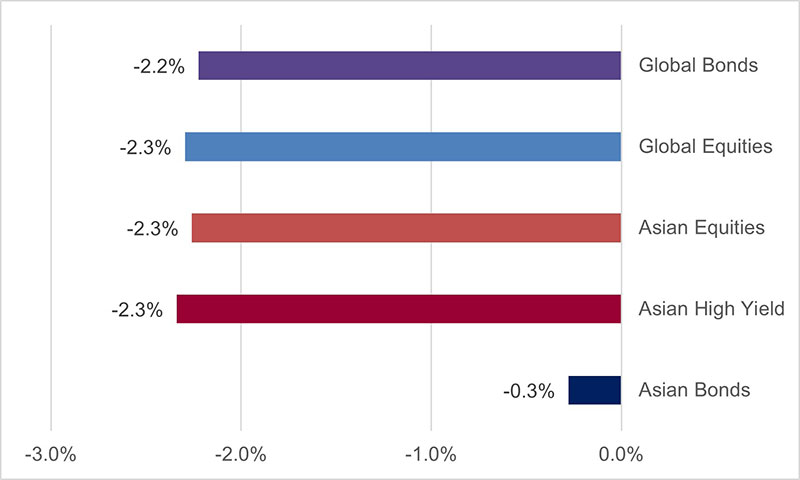 Source: UOBAM/Bloomberg. Performance as at 30 June 2023.

Indices used as follows:
Asian Bonds J.P.Morgan Asia Credit (JACI) Investment Grade Index,
Asian High Yield J.P.Morgan Asia Credit (JACI) Non-Investment Grade Index,
Asian Equities MSCI AC Asia ex Japan Index,
Global Equities MSCI All Country World Index (ACWI) on a Net Asset Value basis; and
Global Bonds Bloomberg Global Aggregate Index.

Please note that there are limitations to the use of such indices as proxies for the past performance in the respective asset classes. The historical performance presented should not be used as a proxy for the future or likely performance.
Equities continued to gain strength in Q2 2023 while global bonds fell slightly. Global equities rose in April 2023 as investors were encouraged by mostly resilient corporate earnings and moderating inflation expectations amid a decline in commodity prices. Despite the failure of a few US banks, markets remained confident in the stability of the banking sector. Global government bond yields were largely unchanged for the month despite major central banks, including the US Federal Reserve and the European Central Bank, being expected to raise interest rates as policymakers remain committed to curbing inflation. Global corporate bonds outperformed duration-equivalent government bonds as credit spreads tightened due to positive economic releases.
Global equities rose marginally in May 2023 amidst higher volatility, as investor sentiment was dampened by concerns about the looming US debt ceiling. Disappointing Chinese economic data sparked concerns about the durability of the country's post-COVID recovery, increasing pressure on policymakers to provide stimulus. For fixed income, most government bond yields rose, and credit spreads widened, fuelled by continued rate hikes by major central banks and mounting US recession fears.
Global equities made substantial gains in June 2023. Investor optimism was driven by moderating inflation in US, as well as the resolution of the US debt ceiling. Mega-cap technology names such as Apple, Microsoft and Nvidia performed well due to growing appetite for growth stocks. Artificial Intelligence (AI) related stocks soared after Nvidia predicted strong demand for its chips. Asian equities also rose as investors were hopeful for stimulus measures from the Chinese government. However, they fell towards the later part of the month as the stimulus fell short on expectations. Global bonds fell slightly during the month as global central banks signalled further interest rate hikes. Inflation also remained sticky in certain regions such as the UK.