Q3 2022 Market developments
Global equities declined for the third consecutive quarter
US Treasury yields surged due to fears of tighter monetary policies
Global Bonds lost almost as much as Global Equities
Asset class performance (% in SGD terms) 30 June – 30 September 2022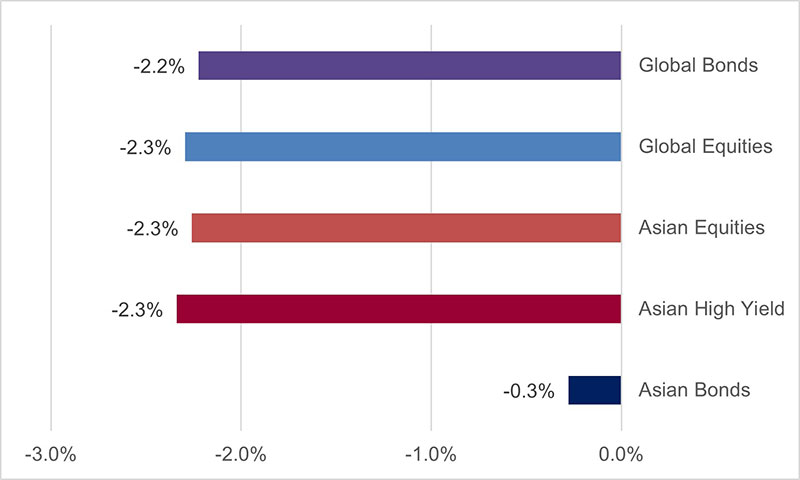 Source: UOBAM/Bloomberg. Performance as at 30 September 2022.

Indices used as follows:
Asian High Yield J.P.Morgan Asia Credit (JACI) Non-Investment Grade Index,
Asian Equities MSCI AC Asia ex Japan Index,
Global Bonds Bloomberg Global Aggregate Index,
Asian Bonds J.P.Morgan Asia Credit (JACI) Investment Grade Index,
Global Equities MSCI All Country World Index (ACWI) on a Net Asset Value basis.

Please note that there are limitations to the use of such indices as proxies for the past performance in the respective asset classes. The historical performance presented should not be used as a proxy for the future or likely performance.
It was yet another difficult quarter for all asset classes. Global equity markets were triggered by investor concerns over persistently high inflation, rising interest rates and global economic growth. Meanwhile, central banks around the world continued to raise rates, leading to lower bond prices.
US Federal Reserve (Fed) Chair Jerome Powell dashed market hopes by reiterating that the central bank would not slow its pace of rate hikes until it was confident that inflation was under control. This is despite acknowledging the unfavourable impact the policy will have on consumers and businesses.
In contrast, the People's Bank of China (PBOC) cut interest rates in an attempt to revive the country's economy. China's strict COVID containment policies and property market disarray had weakened consumer, business, and investment activities.
The rest of the North Asian markets also came in weaker, mostly driven by concerns over tepid economic growth, and an overall slowdown in the global technology cycle. Together, these brought Asian equities down by another 10 percent in Q3.