Q1 2023 Market developments
Despite the volatility, global equities rose in the first quarter of the year
Global bonds gained in Q1 due to expectations of central banks shifting away from sharp interest rate hikes
After a strong Q4 in 2022, Asian equities lagged global equities in the first quarter of 2023
Asset class performance (% in SGD terms) 31 December 2022 – 31 March 2023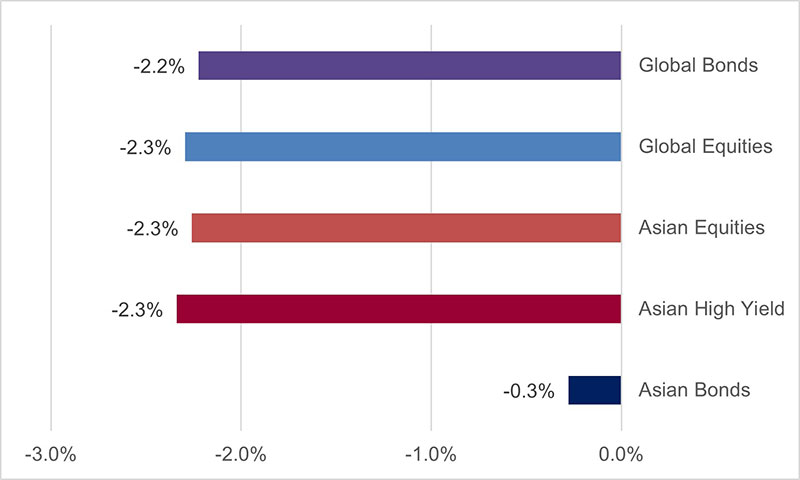 Source: UOBAM/Bloomberg. Performance as at 31 March 2023.

Indices used as follows:
Asian High Yield J.P.Morgan Asia Credit (JACI) Non-Investment Grade Index,
Asian Equities MSCI AC Asia ex Japan Index,
Global Bonds Bloomberg Global Aggregate Index,
Asian Bonds J.P.Morgan Asia Credit (JACI) Investment Grade Index,
Global Equities MSCI All Country World Index (ACWI) on a Net Asset Value basis.

Please note that there are limitations to the use of such indices as proxies for the past performance in the respective asset classes. The historical performance presented should not be used as a proxy for the future or likely performance.
Equities and bonds continued to gain strength in Q1. Global equities and bonds rose in January as investors were encouraged by strong labour reports, moderating inflation, and resilient economic growth amid a decline in energy prices. Inflation in the US and eurozone eased, increasing hopes that central banks can end their hiking cycles soon. Chinese equities continued to surge amidst the rapid unwinding of the country's zero-COVID restrictions and pro-growth policy measures.
However, these turned in February as the resilient economic growth and higher than expected core inflation in the US and Europe led markets to reassess their expectations for peak interest rates. Most global central banks continued to issue hawkish statements on the need to tighten monetary policy further to temper inflation. Chinese equities also gave back its gains over renewed concerns of worsening US-China relationship due to the downing of alleged Chinese spy balloon over US airspace.
Markets fell further in March due to concerns over the collapse of several banks in the US, followed by the Swiss government-orchestrated acquisition of Credit Suisse by UBS due to a loss of investors' confidence in the former. However, after the intervention of global central banks to stabilise the markets, including a USD$164.8 billion backstop from the Federal Reserve (Fed), stocks and bonds clawed back their losses to end the quarter in positive territory.