Q2 2022 Market developments
It was a difficult second quarter for all asset classes. Global equities declined the most, triggered by investor concerns about the economic toll of persistently high inflation, coupled with fast-rising interest rates and geopolitical instability.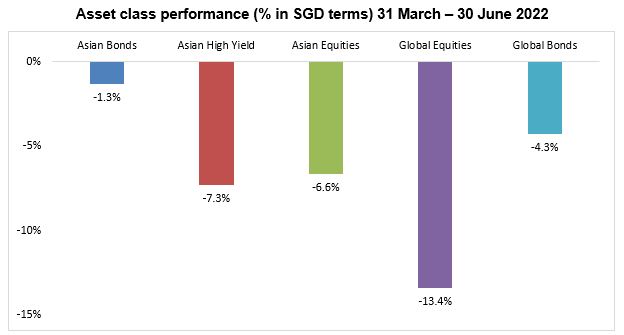 Source: UOBAM/Bloomberg. Performance as at 30 June 2022. Indices used as follows: Asian High Yield – J.P.Morgan Asia Credit (JACI) Non-Investment Grade Index, Asian Equities – MSCI AC Asia ex Japan Index, Global Bonds – Bloomberg Global Aggregate Credit Index, Asian Bonds - J.P.Morgan Asia Credit (JACI) Investment Grade Index, Global Equities – MSCI All Country World Index (ACWI) on a Net Asset Value basis. Please note that there are limitations to the use of such indices as proxies for the past performance in the respective asset classes. The historical performance presented should not be used as a proxy for the future or likely performance.