28 November 2022
China's high-tech ambitions have moved beyond software and internet companies to include a range of innovative industries. These are available to foreign investors via the UOBAM Ping An ChiNext ETF and United China A-Shares Innovation Fund.
Over the last half century, China has achieved remarkable economic growth, transforming from a predominantly agricultural economy to the second largest economy in the world. In particular, its digital economy has advanced rapidly over the past two decades, enabling the country to evolve into a technology powerhouse. In fact, China's internet giants - Baidu, Alibaba, Tencent, and Xiaomi – known collectively as BATX – is frequently compared to the US's GAMA (Google, Amazon, Meta and Apple).
The unprecedented success and scale of these internet companies have helped power the country's economic growth over the years. But regulatory crackdowns, zero-Covid policies and depressed global risk sentiment have dulled their shine and these stocks have seen sizable price drawdowns since February last year.
Rather, as was made clear by President Xi at the recent Chinese Communist Party Congress, China is looking to enter a new phase of its technology development. This phase, defined as "ke jiao xing guo" or "rejuvenation through science and technology" is likely to focus on a wide range of "core technology" industries that will allow China to "win the battle".
What is driving China's high-tech growth?

Rising disposable incomes is generating a huge domestic market for tech products and services. In 2021, domestic consumption contributed to close to 80 percent of the country's economic growth1. And by 2030, China is expected to be home to about 400 million upper-middle and higher-income households, almost as many as in Europe and the United States combined2.

Big Tech is becoming one of the main drivers of China's growth. The country is home to many high-growth companies that are leading the world in innovation. According to the Global Innovation Index (GII) 2022, China ranks third globally in terms of the number of key innovation indicators, right after United States and Singapore3.

Some of these innovative industries are in "core" sectors including equipment manufacturing such as wind power and new materials, electric machinery and equipment such as next-generation alternative energy technologies for example solar and electric vehicle batteries, and transportation equipment such as new energy vehicles4.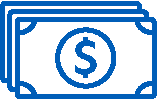 Given internet companies' recent stock price weakness, investors are tapping on investment opportunities that extend beyond the internet sector. In 2021, the MSCI China Technology Index which features 32% of internet companies recorded a -30.5% return, as compared to the ChiNext Index, which saw a 12% return5.
Key emerging high-tech trends & opportunities
New Consumer Staples
New Industrials
To tap on China's new consumer market, leading food and beverage companies are investing in innovation to capture market growth in areas including health-oriented and nutrition-focused products6. Companies are also diversifying into modern farming and livestock breeding techniques.

Subsectors include: Food products, beverages, personal products, food & staples retailing
China is home to innovative firms that produce high quality products more efficiently and cheaply than foreign competitors. For example, China is a leader in electric vehicle (EV) battery production given its competitive advantage and access to raw materials7.

Subsectors include: Ion-lithium EV battery manufacturing, electric vehicles, consumer electronics, alternative power sources
New Healthcare
New Infotech
As the world's second-largest healthcare market, Chinese companies are becoming leaders in drug innovations and medical device manufacture. The medical device market in China is expected to grow by 6.2% compound annual growth rate (CAGR) (2020 to 2025)8.

Subsectors include: Healthcare equipment manufacturing, drug manufacturing, biotechnology
There is a high adoption of artificial intelligence (AI) solutions in China today. AI can create US$600 billion in economic value annually9. According to Stanford University's AI Index, China is one of the top three countries for global artificial intelligence (AI) vibrancy10.

Subsectors include: 5G, artificial intelligence (AI), Internet of Things (IoT), data centres
New Materials
Transformations occurring in the energy, automotive, logistics, manufacturing, and construction industries are driving demand for new materials. The materials industry trends include development of intelligent materials, nano-formulations, and advanced composites, with time-to-market accelerated by artificial intelligence (AI).

Subsectors include: Raw materials, chemicals, packaging, metals and mining, paper and forestry products
Opportunities offered by UOBAM
For those looking to seize investment opportunities in China through funds that offer a broad exposure to companies engaged in the disruptive and innovative technologies listed above, UOBAM offers two solutions:
The United China A-Shares Innovation Fund and UOBAM Ping An ChiNext ETF both help customers invest into bright spots and trends that are shaping the future.
They are both:
managed by a well-established Chinese fund manager, Ping An Fund Management Company Limited
provide exposure to the largest enterprises in China's growing industries, including clean energy and semiconductors
offer diversification benefits for investors, and can be used as a satellite component in a core-satellite portfolio
However, there are some important differences:
1. Objectives
The United China A-Shares Innovation Fund aims to achieve long-term capital appreciation by investing primarily in A-shares of companies listed in China, which are beneficiaries of technology, innovation and other growth trends. The Fund seeks fast-growing companies beyond technology, including sectors such as industrials, consumer, healthcare and materials.
The UOBAM Ping An ChiNext ETF offers exposure to the ChiNext Market which comprises of over 1,100 companies and serves as an important listing platform for innovative and fast-growing enterprises. The ETF aims to track the ChiNext Index, which comprises the 100 largest and most liquid A-shares listed on the ChiNext Market. Sectors include infotech, biopharmaceuticals, advanced industrials, high-end manufacturing and new economy sectors.
2. Sector allocations
The United China A-Shares Innovation Fund is focused on larger companies that are beneficiaries of technology trends, which includes consumer staples, information technology and materials.
The UOBAM Ping An ChiNext ETF has a strong focus on fast-growing companies within industrials, healthcare and information technology.
3. Top Holdings
The United China A-Shares Innovation Fund currently holds 44 stocks. Its current largest holding is Kweichow Moutai Co Ltd, a company specialising in the production and sale of food, beverage and packaging material.
The UOBAM Ping An ChiNext ETF's is comprised of 100 stocks. Current largest holding is Contemporary Amperex Technology Co. Ltd, a company that specialises in the manufacturing of lithium-ion batteries for electric vehicles and energy storage systems.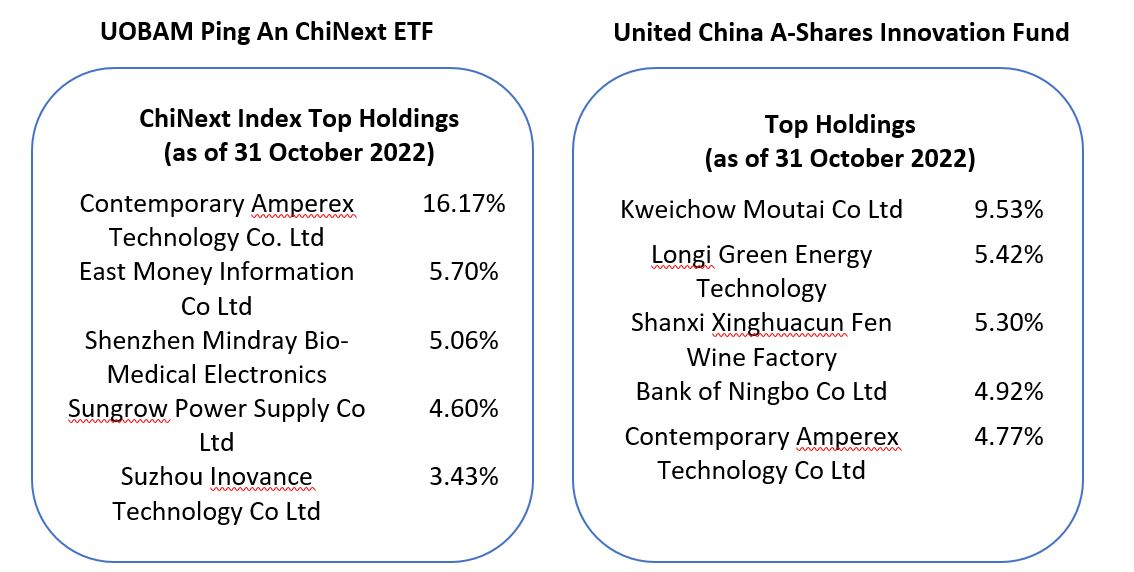 4. Product Type
The United China A-Shares Innovation Fund is an actively managed fund which selects companies that are beneficiaries of technology, innovation and trends.
The UOBAM Ping An ChiNext ETF is a passively managed exchange-traded fund which tracks the ChiNext Index directly by buying the underlying securities of the index.
5. Fees and minimum investment
The fees and minimum investment amount for the United China A-Shares Innovation Fund and UOBAM Ping An ChiNext ETF are set out as below:
UOBAM Ping An ChiNext ETF
United China A-Shares Innovation Fund
Management Fee
0.50% p.a.
1.75% p.a.
Expense Ratio
Maximum 1.25% p.a.
-
Subscription Fee
-
5% p.a.
Trustee Fee
Currently not more than 0.05% p.a.
-
Minimum investment
Buy/sell on SGX: minimum 1 unit per lot
Min. initial investment: S$1,000
Min. subsequent investment: S$500
About Ping An Fund Management Company Limited
Established in 2011, Ping An Fund Management Company (Ping An FMC) is a joint venture between UOBAM and Ping An Trust Co. Ltd (Ping An Trust). It leverages its domestic investment capabilities and track record and combines them with UOBAM's regional network and Renminbi (RMB) Qualified Foreign Institutional Investor (RQFII) license to offer investment opportunities in China's onshore financial market.
Ping An FMC has:

1National Development and Reform Commission (NDRC) People's Republic of China, "Potential of China's domestic demand to be continuously unleashed", February 2022
2McKinsey & Company, "Five consumer trends shaping the next decade of growth in China", November 2021
3World Intellectual Property Organization, "Global Innovation Index 2022 – What is the future of innovation-driven growth? 15th Edition", September 2022
4Asia Society Policy Institute, Rhodium Group, "Innovation – Innovation Policy Reform", October 2021
5Ping An Fund Management Company Limited "Ping An", September 2022
6Fitch Ratings, "Chinese Food and Beverage Companies to Benefit From Innovation, Product Diversity", December 2021
7Quartz, "Chinese EV battery makers are aggressively expanding production in Europe", September 2022
8International Trade Administration, China- Country Commercial Guide, January 2022
9Quantum Black AI by McKinsey, "The next frontier for AI in China could add $600 billion to its economy", June 2022
10Stanford University, "Global AI Vibrancy Tool – Who's leading the global AI race?", March 2022
This publication shall not be copied or disseminated, or relied upon by any person for whatever purpose. The information herein is given on a general basis without obligation and is strictly for information only. This publication is not an offer, solicitation, recommendation or advice to buy or sell any investment product, including any collective investment schemes or shares of companies mentioned within. Although every reasonable care has been taken to ensure the accuracy and objectivity of the information contained in this publication, UOB Asset Management Ltd ("UOBAM") and its employees shall not be held liable for any error, inaccuracy and/or omission, howsoever caused, or for any decision or action taken based on views expressed or information in this publication. The information contained in this publication, including any data, projections and underlying assumptions are based upon certain assumptions, management forecasts and analysis of information available and reflects prevailing conditions and our views as of the date of this publication, all of which are subject to change at any time without notice. Please note that the graphs, charts, formulae or other devices set out or referred to in this document cannot, in and of itself, be used to determine and will not assist any person in deciding which investment product to buy or sell, or when to buy or sell an investment product. UOBAM does not warrant the accuracy, adequacy, timeliness or completeness of the information herein for any particular purpose, and expressly disclaims liability for any error, inaccuracy or omission. Any opinion, projection and other forward-looking statement regarding future events or performance of, including but not limited to, countries, markets or companies is not necessarily indicative of, and may differ from actual events or results. Nothing in this publication constitutes accounting, legal, regulatory, tax or other advice. The information herein has no regard to the specific objectives, financial situation and particular needs of any specific person. You may wish to seek advice from a professional or an independent financial adviser about the issues discussed herein or before investing in any investment or insurance product. Should you choose not to seek such advice, you should consider carefully whether the investment or insurance product in question is suitable for you.

UOB Asset Management Ltd. Company Reg. No. 198600120Z